The New Home Media Experience
Modulus brings order to the chaos of multiple devices, closed systems, tangled wires, lost remotes, and forgotten passwords. In one brilliant, powerful box, Modulus gives control of your home media back to you.
Play Video
Computer
America
Top Tech Award
February 2017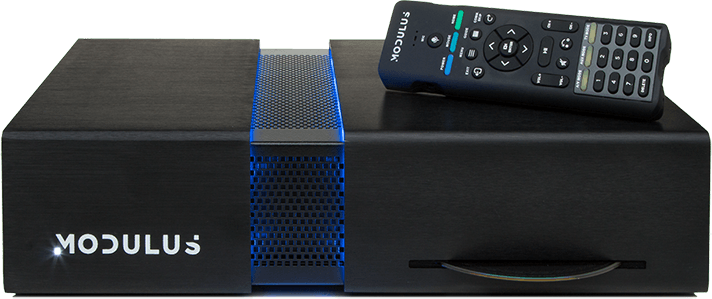 What is Modulus?

The First All-in-One System

Modulus combines a DVR, Blu-Ray/DVD/CD player, networked movie server, streaming video and music, and personal media organizer into one. No switching inputs! Upload your music, movies, and family media to enjoy ALL your content in our elegant, proprietary user interface with an enormous 12TB of storage. Get rid of your cable DVR and those rental fees!
Effortless Streaming

Modulus streams Netflix, Amazon, Hulu, Spotify, and more, plus it remembers your login info for each service.
Ultimate DVD Player

Play your DVD and Blu-Ray Discs or quickly import them into Modulus' online library with no quality loss or need for conversion.
Family Media Hub

Modulus offers unlimited storage capacity with up to 12TB internal memory plus 4 USB 3.0 ports for external add-on USB drives.
Digital Music System

Upload your entire collection of CDs to Modulus, add speakers, and your TV becomes your home stereo system.
The Ultimate Remote

Control Modulus with your voice using our user friendly remote, or download the mobile app and control it from your phone or tablet.
Share Your Media

Use our Modulus Mini unit to enjoy your content in any room in the house — even at a college dorm room or vacation home
Press
Modulus at CEDIA 2017
Greetings Modulus Supporters! Our national launch is ready for CEDIA 2017. If you're in San Diego, come see us at Booth #1512. Thanks for your support!
Read More
Integrators
Home Theater Experts Weigh In
More than 250 of the top integrators and installers have seen Modulus and they are giving it high praise indeed. See the reviews!.
Read More
It's Entertaining, Not Frustrating
So many devices, and so many content suppliers who don't want to play together. It's a nightmare for consumers who long for one easy-to-use system. With Modulus, watching TV is fun, not frustrating. All your content becomes easily accessible in fresh, elegant way. Modulus unifies and simplifies. It's a beautiful solution created by media lovers who wanted a way to seamlessly move from content to content, and share it with family throughout the house. It was designed to eliminate the clutter of boxes of unused CDs and DVDs, and use the latest technology to make managing all your favorite programs a joy, not a chore.
Enjoy your favorite streaming and live entertainment like...
Learn More
The Modulus Story
Learn how a visionary tech entrepreneur and his band of merry software engineers built a solution that consumers have been clamoring for.
Learn More